We are delighted to announce our partnership with Mark Marchant, founder of Greener Miles Running Coaching.
Together we provide customised training programmes with comprehensive input from our team of Physiotherapists and Strength and Conditioning Coaches here at Momentum.
As a partnership, we provide consistency and support through a combination of proven coaching methods, real-life experience and knowledge to help you achieve your running goal, however big or small.
what you can expect from us
We will do everything we can to help you achieve your chosen goals.
Your initial consultation we will plan these goals together, your training plan will consider your previous running experience, your job, work         pattern and family circumstances.
Discuss previous injuries, mobility or flexibility issues and anything else which may have an impact on how you are able to meet the                     demands of your new training plan.
Your plan will include your running sessions, basic strength and conditioning sessions, and any other assistance related activities.
Mark will review it daily, adding any comments or observations on the relevant sessions.
Depending on your coaching option, you can receive further individualised strength and conditioning support from our UKSCA accredited         coaches, creating a bespoke training plan to compliment your running programme, keeping you strong and injury free.
packages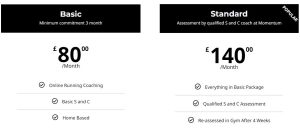 What we can expect from you
Communication
Commitment
Motivation
The key point is that the plan fits in with your day-to-day life. Working together we will create a plan which is both challenging but achievable and more importantly realistic.
are you interested?
To find out how we can help you, book a free, no obligation telephone/video call with Mark.