Services
Sports Massage Therapist Jesmond
Sports Massage Therapist Jesmond
Restorative, mixed technique sports and soft tissue massages to help reduce injury risk, aid recovery and improve health from our Sports Massage Therapist Jesmond
We use a variety of classic sports massage strokes and specific deep tissue techniques, working on the body's soft tissues, trigger points, muscles, and tendons.
Tailored to your needs
Regardless of whether you're an elite athlete or a mother who suffers from ongoing back pain, our experienced team are here to help.
Aid recovery
Our team can help to aid your recovery from a whole range of sudden or ongoing issues. Sports massage can help restore motion in stiff joints, improve your posture and muscle tone, and reduce stress on your bones and joints.
Encourage relaxation
By increasing the temperature of the soft tissues and releasing uplifting hormones, a sports massage can leave you feeling relaxed whilst encouraging joint mobility.
Other Services Offered By Momentum
The team are a hugely important part of my career as a professional athlete. They have enabled me to keep my body in the best shape possible and allowed me to train day in day out to the best of my ability and without any problems. If you're looking for somewhere to get you back on track… their work is exceptional.
I was told I'd never ride a bike again. Following two operations, rehab and training supplied by the team, I now have competed in 4 World Age Group Triathlon Championships and 8 European Multi Sport Age Group Championships. The team work specifically towards my needs and goals, without them I would have had to give up racing.
Around the World in 80 Days was 18,000 miles in 78 days. Perhaps the greatest test of bike fit ever, making sure I could remain comfortable and efficient for 1100 hours in the saddle. John has the experience to adapt to the rider's physiology and the events they are taking on.
There is a real personal feel to the gym with clear co-ordination, so we feel confident that our wellbeing is at the centre of each session. There is no pressure relating to capability, the focus is doing things properly to the best of your own ability. For us, the gym provides the perfect blend of professionalism and friendliness.
The expertise of John and co have helped me to recover from several injuries over the past 5 years. Meanwhile their professional bike fit service, tailored injury prevention programme, and sports massage therapy have helped prevent any new ones. I live in the west of the country now but still travel to see the team, they are that good.
The trainers are fantastic, knowledgeable, motivating, friendly and fun. They take the time to assess where you are at and get to know you well enough to understand where you want to go. Some gyms are exclusive and off-putting, this one isn't. They cater for a diverse range of ages and abilities.
Need more information …
Please Get In Touch
How to Find Us
Momentum Sports Injury Clinic
Eldon House East (Next to)
Regent Centre, Gosforth,
Newcastle upon Tyne NE3 3PW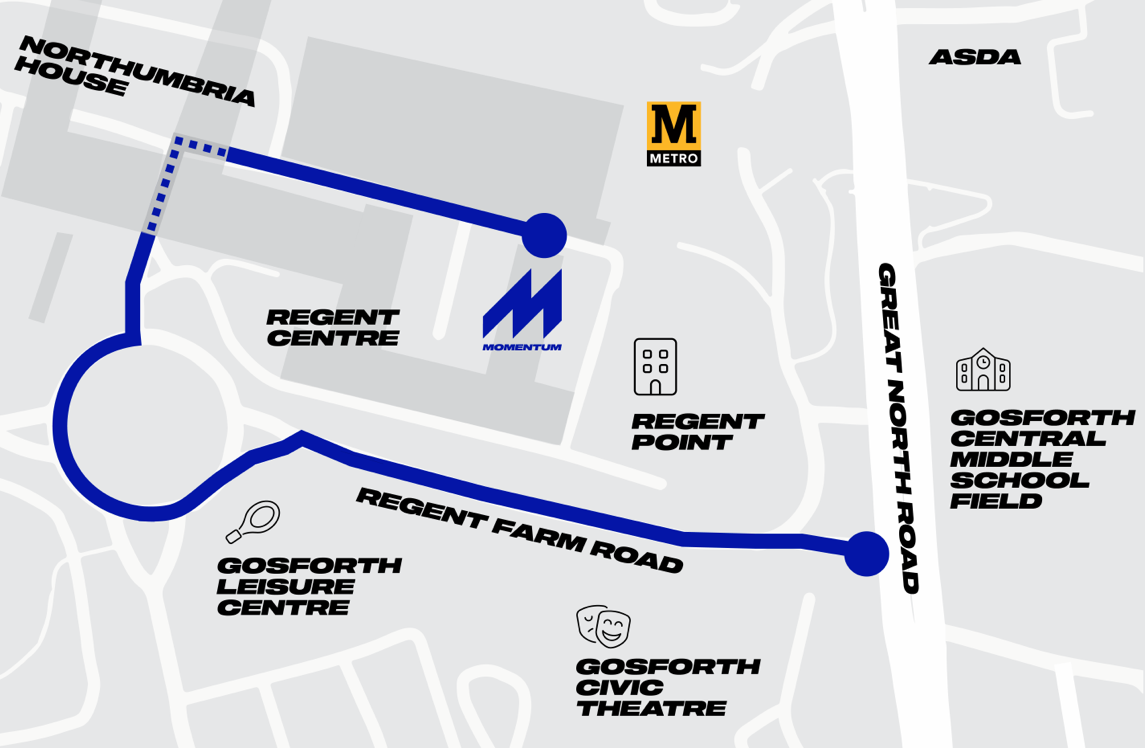 Our values
Passionate about helping you
We live and breathe what we do. Our team are sports enthusiasts, have treated professional athletes, or still compete professionally themselves. So you get the benefit of our enthusiasm and expertise as soon as you walk through the door.
Striving for excellence
As a client, you are always at the centre of what we do. If you are being treated by one of our physios and we think you'd benefit from some strength and conditioning training to help you perform better, we'll tell you.
Helping you perform better
Whoever you are, you get the same level of service from our enthusiastic team. Our main goal is to help you thrive, so we really listen to your individual goals, and do everything we can to help you achieve them.
Integrity in everything
You can rely on us to give you solid advice. Our physiotherapists are registered members of the Health and Care professions Council (HCPC) and the Chartered Society of Physiotherapy (CSP), and our Strength and Conditioning Coaches are UKSCA qualified.