Services – Custom Orthotics Regent Centre
RS Footscan® and Phits™ Custom Orthotics Regent Centre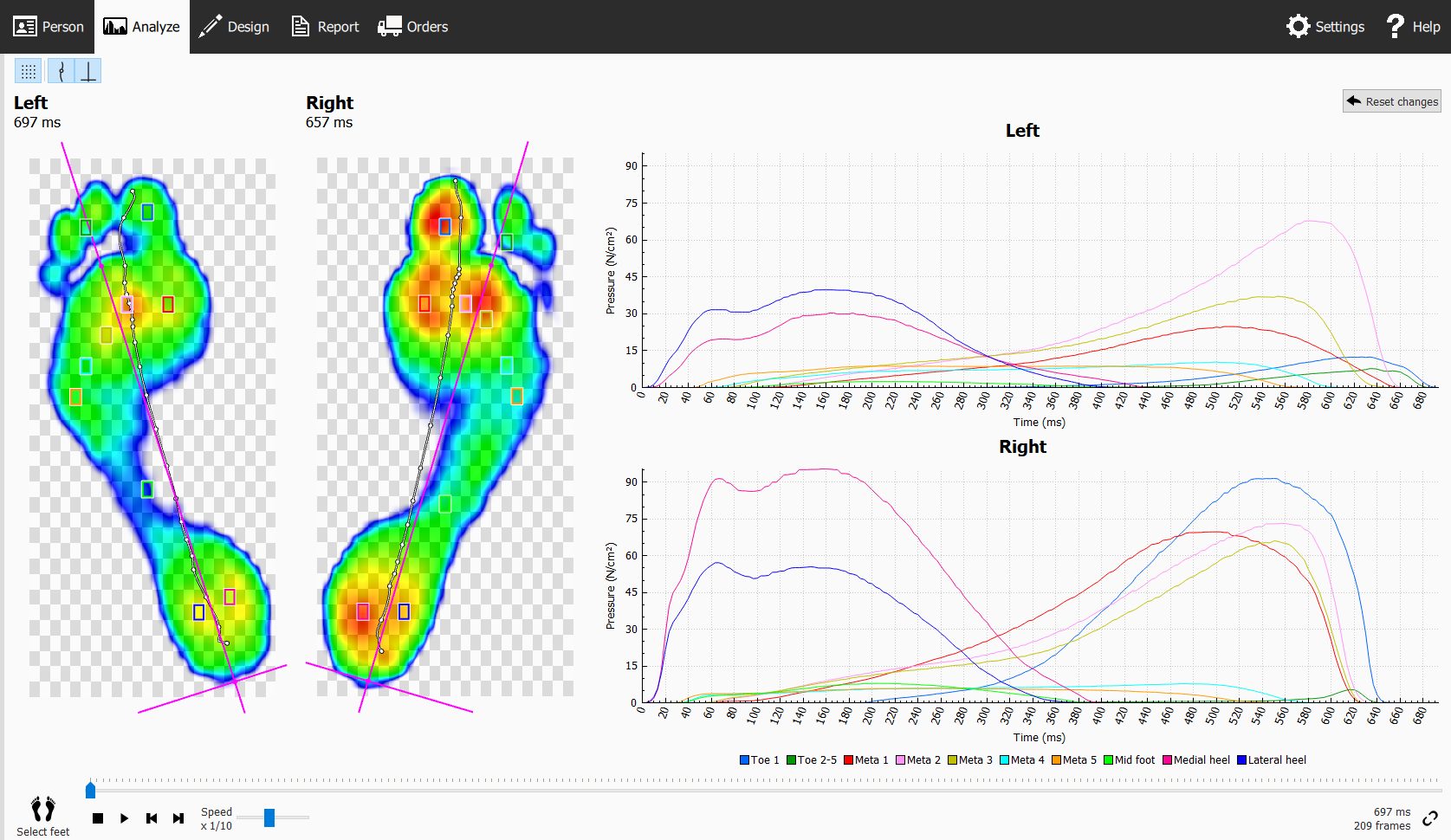 About – Custom Insoles Regent Centre
Level up your movement with world-leading foot scan technology and custom insoles tailored to your needs.
RS Footscan® uses sophisticated technology to analyse the pressure forces and load distribution on the soles of a person's feet. It provides valuable insights into pressure distribution, gait analysis and other aspects of foot biomechanics during activities such as walking, running, cycling, skiing or standing.
Phits™ insoles are designed digitally, based on the data from the RS Footscan analysis to create 3D-Printed Custom Orthotics to address issues such as pressure imbalances, arch support and alignment correction.
RS Footscan® technology
The RS Footscan® uses over 16,000 sensors to map out the base of your foot to provide a crucial insight into the cause of pain or injury. We have one right here at the clinic.
39m indoor track
No one gets injured standing still. Our indoor track allows you to get into your natural movement pattern and gait, which allows us to get a clear picture of what is going on during your activity.
Professional custom insoles
RS Footscan® data about your gait can be used to create custom insoles, where needed. Sir Mo Farah and Paula Radcliffe trust orthotics specialists Phits™ to create theirs, so we do too.
To assist my return to activity it was identified that I should have my feet scanned to improve my biomechanics. Time spent with the team was enjoyable and informative, the insoles provided are excellent quality and they have really improved my movement and stability both in and out of the gym. I would recommend these sessions to anyone, they are an excellent product.
Who we've worked with















What are Orthotics?

Orthotics (Insoles) are devices that are inserted into shoes to provide additional support for the foot and equalise the distribution of pressure placed on the foot when standing, walking, or running. Orthotics can assist with a range of concerns from reliving back pain caused by standing for long periods, to improving the performance of your foot during a time trial, or delivering power through your golf swing.rnrnThis is reflected in the meaning of 'orthotics', which is derived from the Greek term meaning 'to align' or 'to straighten'.

Who are Phits™ Orthotics?

Phits™ orthotics are the world's first, and leading, 3D orthotics. They design, craft, and supply custom orthotics to our clients, as well as world-class athletes such as Sir Mo Farah and Paula Radcliffe.rnrnUsing the data gathered from the RS Footscan®, each pair of orthotics are custom made to perfectly fit your feet, provide the support you need, reduce the likelihood of injury and improve your performance. With a specific focus across a number of sports, here at Momentum we have been working with the RS Footscan® and Phits™ since 2018. We've developed solutions for our clients in environments as diverse as workplaces, to the area of international sporting competitions.