Services
Strength and Conditioning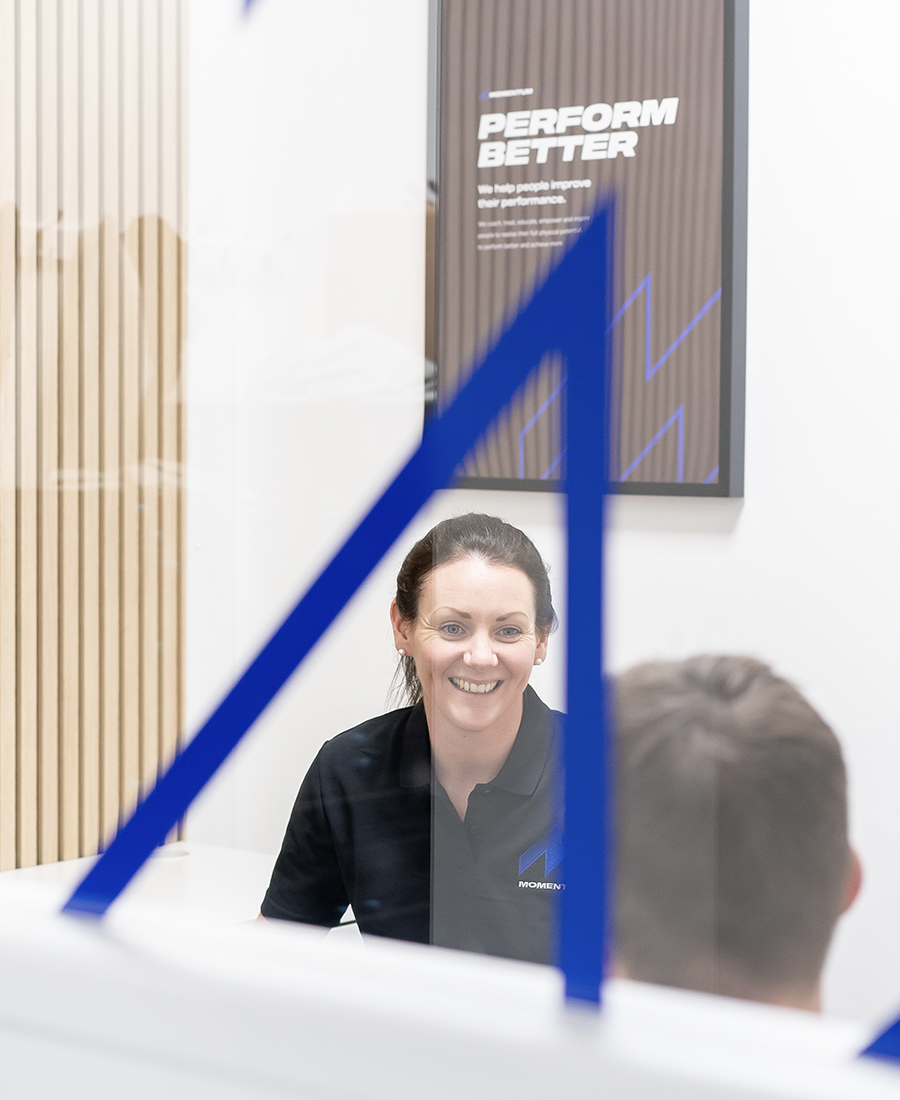 About
A fully integrated, bespoke coaching service that supports you to unlock your potential and achieve your goals.
Our UKSCA accredited Strength and Conditioning coaches will assess, review and tailor programmes specifically to you.
Fully integrated approach
The whole Momentum team are here to support, inspire and motivate you along the way. We offer a fully integrated approach with the physio and rehab team should you need it. Whilst also gaining the benefit of communicating directly with your coach via our training app.
Your ambitions, your service
We need to know how we can best support your goals and ambitions. Book a Sport Specific Movement Assessment with one of our S&C coaches so we can fully understand any training barriers you may have, your training and injury history and assess your current physical capabilities.
Measure and analyse progress
Our coaches use an online programming software which allows them to plan, track and analyse your training all in one place. We do not offer or believe in quick fixes; success is about time and commitment.
What makes us different
Our team works collaboratively allowing you to train at a time which suits you in a professional environment. Gain support from other gym members as you train in a semi-private training environment whilst working on your own specific programme.
I wanted to give a massive thanks' and thumbs up to Momentum and to shout out to Dani who have massively helped and educated me (and listened to my moaning!) since last October on trying to overcome a very stubborn IT band issue. The guidance and advice was fantastic, I committed to three sessions a week with group PT once a week and I'm not sure I would have got to my next marathon without coming here. I managed to shave some more time off and get under 3hr 20, felt strong and didn't feel anything from the dreaded IT band, highly recommend these guy's and wouldn't hesitate to come back.
It feels very welcoming and a safe space, being mixed in age and gender The music is eclectic and fun, reflecting the age range! Support and advice are completely individual and aligned with your own goals.
Without the team at Momentum, I would not have been able to compete at such a high level for this long and I would recommend anyone who has individual needs in their Strength or Rehab training to talk to the team about how they can help.
The gym is well stocked, clean and has a great selection of session times. Everyone at momentum is fantastic, super friendly and incredibly knowledgeable and supportive.
I have been a momentum member since 18 months. With Teleri's guidance, I have become stronger and been able to cope with a demanding job. The trainers are great at adapting the training to suit your needs. They are always keen to help. I would definitely recommend momentum.
Who we've worked with