Services
Group Fitness
Training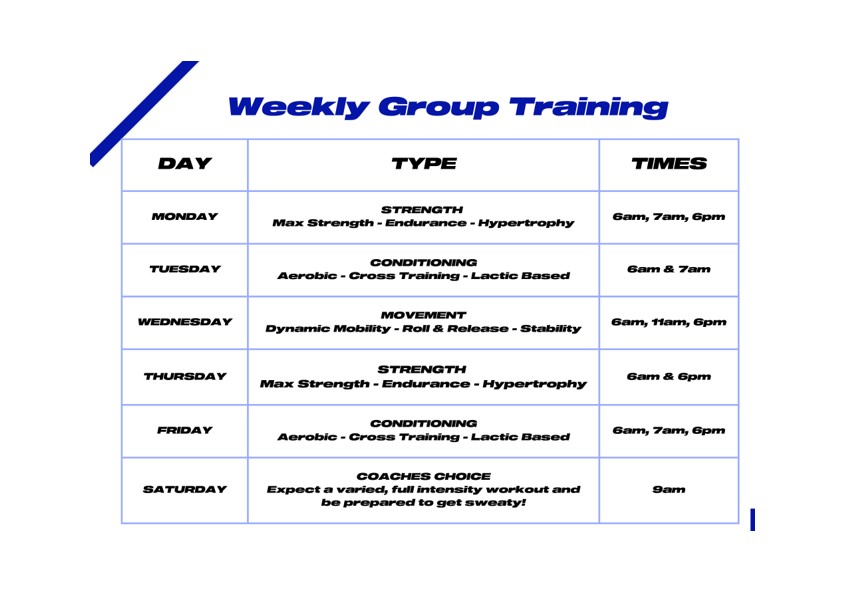 About
Take advantage of expert programming and coaching, with a group of likeminded people.
Delivered as a group, assessed as an individual. Our group fitness training sessions allow you to enjoy a mix of strength, conditioning, and movement training every week.
Measured progress
Our accredited Strength and Conditioning Coaches design classes that will challenge your capabilities, irrelevant of your start point. A mix of Strength, Conditioning and Movement classes allow you to continually improve on all areas of your fitness.
Achieve your goals
As well as helping you move well, perform better and stay pain free, we'll help you achieve your individual goals, whilst in a group environment.
Small group sessions
We keep our group fitness training sessions to a maximum of 12 people, to allow a strong focus on coaching, corrective techniques, and progressive loading.
Give us a try
It is important to us that you are happy here which is why your first session is on the house so you can try us out. Come down to the gym, meet the coaches and trial a session on us.
I joined 8 years ago and have never looked back, the group sessions are excellent and there's a great atmosphere, with everyone keeping each other motivated. There's a variety of strength and conditioning sessions that allow you to improve your fitness whilst looking after your body and you'll receive regular individual feedback.
There is a real personal feel to the gym with clear co-ordination, so we feel confident that our wellbeing is at the centre of each session. There is no pressure relating to capability, the focus is doing things properly to the best of your own ability. For us, the gym provides the perfect blend of professionalism and friendliness.
Who we've worked with















How many classes are there each week?

There are 14 classes every week, each will have a daily focus of strength, conditioning or movement.

How long are classes and when do they run

Each class is 45 minutes. We currently run them every evening at 1800, Mon Tues Fri 0700, Tues Wed Thurs 0600, Tues Thurs 1900, Sat 0900

What if it isn't for me?

It's really important to us that you're happy, comfortable and think we're the right fit, which is why your first session is on the house, so you can try us out first.